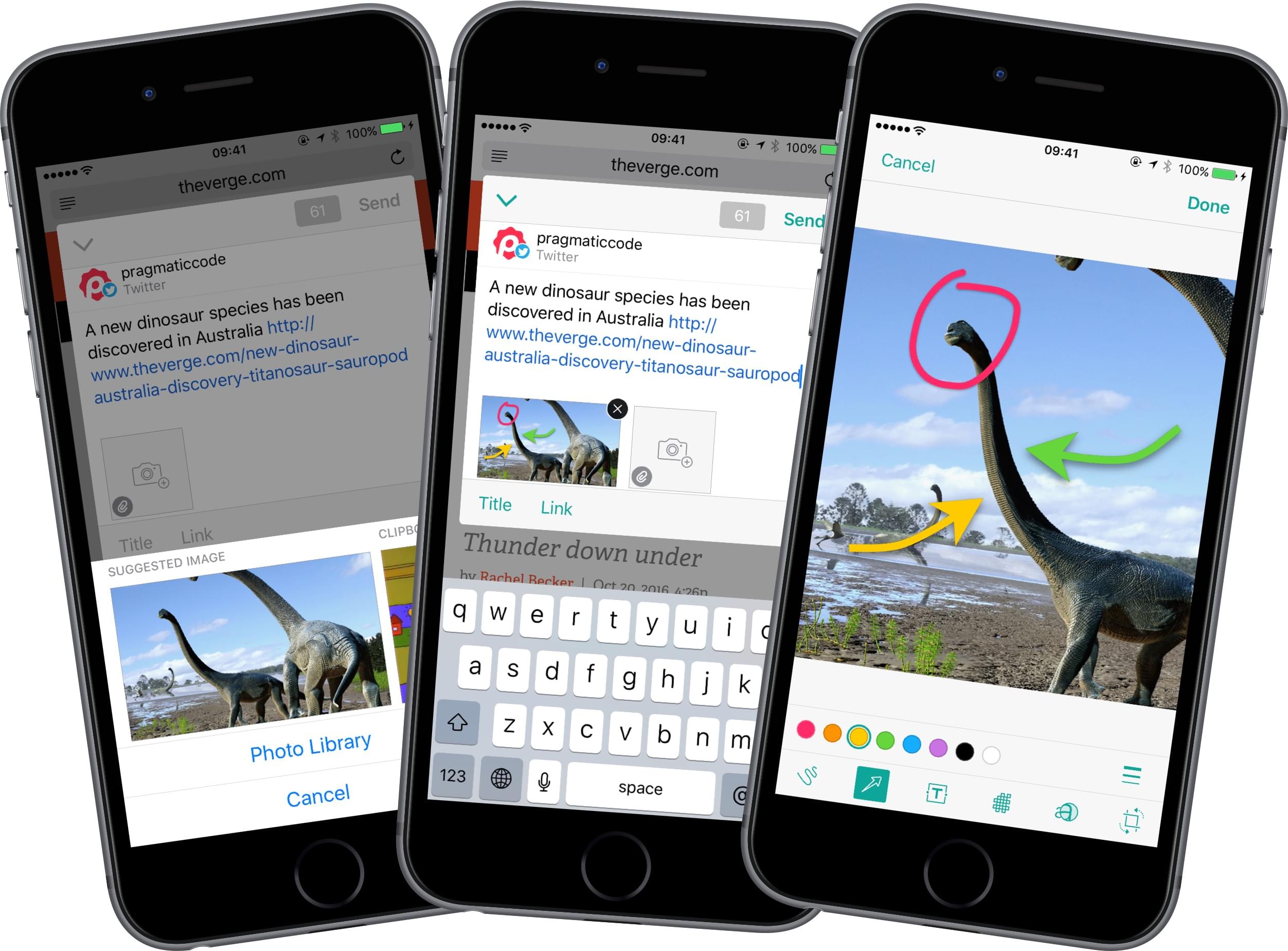 Linky lets you easily share webpage links, images and text extracts to Twitter and Facebook from your iPhone and iPad. Write your post, choose which preferred social networks and Linky will do the rest! You can connect Linky to Twitter and Facebook (Profiles and Pages).
Share From Safari
With just one tap of the Action button in Safari, you can share the current page using the embedded composer sheet without ever leaving Safari. You can also share URLs directly from other third-party apps via the Share Extension.
Share Text & Images
Share images easily from Photos app and third-party applications. You can also preview the shared image in fullscreen before sending it.
Share any text too! Bring up the extension, the text is copied in the message, edit if required and share. It's that simple.
Content Related Images
Linky suggests images related to the webpage and can add them to the message.
Web Clipper
Linky's Web Clipper extracts selected text from a web page and carries it over to the composer sheet, ready for you to edit.
Text Shots
You can make a text shot from the text selection in Safari for sharing as a beautiful image.
Shortening
Linky can insert both the url and the title of the webpage as required. It can also shorten links, giving you access to further link analytics.
Cross Posting
Send a message to multiple accounts at once.
Made for iOS 11
Linky takes advantage of new features introduced with iOS 11. It includes Drag & Drop support for the iPad allowing to drop images in the share's extension.
All features
Supports Twitter and Facebook Profiles & Pages.
Post messages simultaneously on multiple accounts.
iOS Share Extensions are integrated directly into Safari and many other third-party apps, allowing to directly share text, images and web page links.
Add multiple images to your messages (animated gif images are supported).
Select the destination album when sharing images to Facebook (supported for both Facebook Accounts and Pages).
Image preview in fullscreen.
Suggestion of images related to shared links.
Share selected text in Safari as a text shot image.
Links, hashtags and mentions are color-highlighted when composing.
Usernames are auto-completed when typing the @ symbol.
Links can be shortened when the message is sent using bit.ly, CloudApp, Droplr, Goo.gl, and yourls.org (all link-shorteners require an account).
Clipboard URL: If a URL is copied to the clipboard from another application, Linky will ask whether you want to use it.
URL Scheme to launch Linky from other apps using the x-callback-url specification (in-app documentation and examples).
iOS 11 Drag & Drop support for the iPad allowing to drop images in the share's extension.
VoiceOver accessibility for the visually impaired.
Universal App (iPhone + iPad).
Designed for iOS 11 and the Retina HD Display.
iPhone 7 Haptic Feedback and Peek & Pop
Supports iOS multitasking (Slide Over and Split View on the iPad).
Supports both portrait and landscape orientations on the iPhone and the iPad.
They talk about Linky
Linky 5.0 removes friction from sharing links, quotes, and images. I appreciate the intelligent use of Open Graph and Twitter Cards to save even more time, and I'm a fan of the deeper controls Linky brings when compared to the default share sheets of Twitter and Facebook. I can't recommend Linky enough."
Linky turbocharges sharing links and images to Twitter and Facebook from Safari or other apps supporting iOS extensions."

4 out of 5 mice